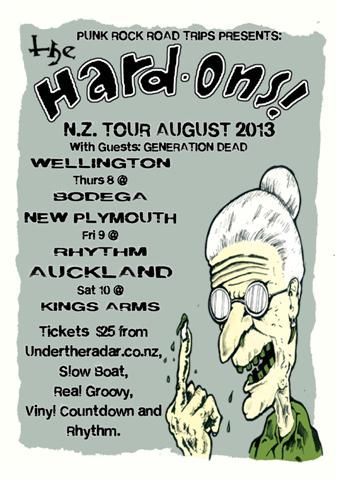 Punk Rock Road Trips Presents…in association with Artist Voice
The Hard On's (Australia) NZ North Island Tour 2013
" Never has so much been owed by so many to so few chords..."
If you consider yourself a music fan and you've not heard the name Hard-On's then you must have lived in a cave for the last 28 years!
The Hard On's are not only Australia's most endearing and commercially successful independent Punk Rock band, but founding member
Peter (Blackie) Black is also considered one of Australia's living legends And, if he ever dies, rumour has it he will be dipped in bronze and mounted
on the Sydney Opera House steps as a permanent national treasure.
With17 consecutive number 1s on the independent charts in
Australia. TV appearances on major shows in Japan, England, Germany,
Finland, Spain, France and Greece! A top 10 hit in Spain, a top 5 hit in
Greece, a top 5 hit in the NME charts as well as recording a version of AC/DC's "Let there be Rock" with Henry Rollins.
The Hard On's certainly are (or should be), a household name in every country.
The Hard-On's music can be described as a series of short exciting bursts of
undiluted rock and roll. Elements of metal, punk, bubblegum pop and
powerpop blast the listeners' sensibilities with both beauty and brutality. It is
all over in under three minutes and then they move on!
The live set is a humorous and unpredictable affair of the highest
order: a truly action packed bare-chested glory that is bound to leave
footprints on one's skull. Explosion after explosion of feedback, distortion AND
pure melody exit via frightening velocity and taste! Words like "legendary" and "must-see" spring to mind.
See them in NZ this August at:
Bodega, Wellington - Thursday 8 August
with Spaceplague, Gripper and Generation Dead
Rhythm, New Plymouth - Friday 9 August
with Shut The Hell Up, Gripper and Generation Dead
The Kings Arms, Auckland - Saturday 10 August
with Gripper, Generation Dead, Prowler (and possibly Scumbeat...)
Tickets on sale from
http://www.undertheradar.co.nz
, Real Groovy Records, Slow Boat Records, RPM, Vinyl Countdown and Rhythm Bar (NP)
Facebook event page:
https://www.facebook.com/events/171812072988265/
Will be looking at a South Island tour a bit further down the track, just couldn't make it work at the moment. Cheers, Tim
[video]https://www.youtube.com/watch?v=eQpFUUe0_vc[/video]